The Pleasure Of... Waiting Together
Queues, street meat, seasonal-vegetable imperialism, the best hand cream
It's a gloomy Monday morning, and cool enough that the radiators have clanked on again. The arrival of heat in a Proustian surge of burning dust and clicking pipes is a very New York ritual, more tentative than it used to be in these days of mild, damp, changeable fall weather. Like not having a washing machine in my apartment, and not being able to buy cheap sliced bread without sugar in it, not being able to control the heat was a shock when I moved to New York. Now it seems normal (if bad!) to be flooded by heat overnight sometime in October, able to regulate it only by cracking a window. It's an idiosyncrasy that anyone who has lived here for any length of time can remember, and I'm particularly attached right now to these little moments that are reminders of the density of the city (which is not a ghost town!), with thousands of people, in their different lives and spaces, sharing an overlapping happening.
That feeling of secret sharing, an unacknowledged marker of time and the seasons changing, is why I've always loved the moment of the clocks going back or forward. I hadn't even thought about the clocks until this week, when I got hit with an unexpected wash of sadness, because for the past four years they've gone back on the morning of the New York City marathon. I wasn't going to run this year but T was, for the fiftieth anniversary of the race. The first time I ran, it was 2016, and I vividly remember going to the marathon pavilion in Central Park the next day to get our medals engraved, waiting in a tightly snaking line, leaves underfoot and a chill in the air, trying to stretch out my tight calves and eavesdrop on everyone's race stories. It was the day before the election when, I fully and firmly believed, the short national nightmare of candidate Trump would finally be over. We would celebrate.
And here we are.
Early voting started on Saturday morning in New York, and the lines at our polling place, one of two in the neighborhood, wrapped the building twice and snaked up and down the surrounding streets, and there was a similar sense of collective will, the rare thing when strangers have the same priorities. Like the protests this spring and summer, the presence of all these people (masked and distanced) was no doubt sharpened by months of isolation, or at least reduced contact with people. And yes, long lines to vote are a sign of suppression or incompetence or both, but here and now they are undeniably also a sign of enthusiasm and the desire to be part of something. Of ending something, four years late. Here's Tony's video about it all (the meat is explained below.)
… Of consuming (for a cause)
We followed up our (well, T's) abortive attempt to vote* with a far more successful attempt to secure some smoked meat from a guy with a DIY smoker set up in the street around the corner from us that's closed to traffic, who was raising money for the local mutual aid network. (How very 2020.) We were at the front of this line, so got to watch as juicy slabs of brisket and pork belly were carved up and tucked into sandwiches—banh mi with pickled carrots, or Texas-style with a cheese sauce and hot pickled red onions (that were, um, hotter than the baby was expecting. Oops.) He dug the meat though, which we doled out in a frankly miserly fashion because it was delicious and too good to waste on a baby. 
In other street news, I've now done yoga next to a bike lane twice. It's weird and not exactly restful but giving me what I need: a real workout, a sense of community, and a shared acknowledgment that, yes, things right now are weird, and not restful, and that we need each other.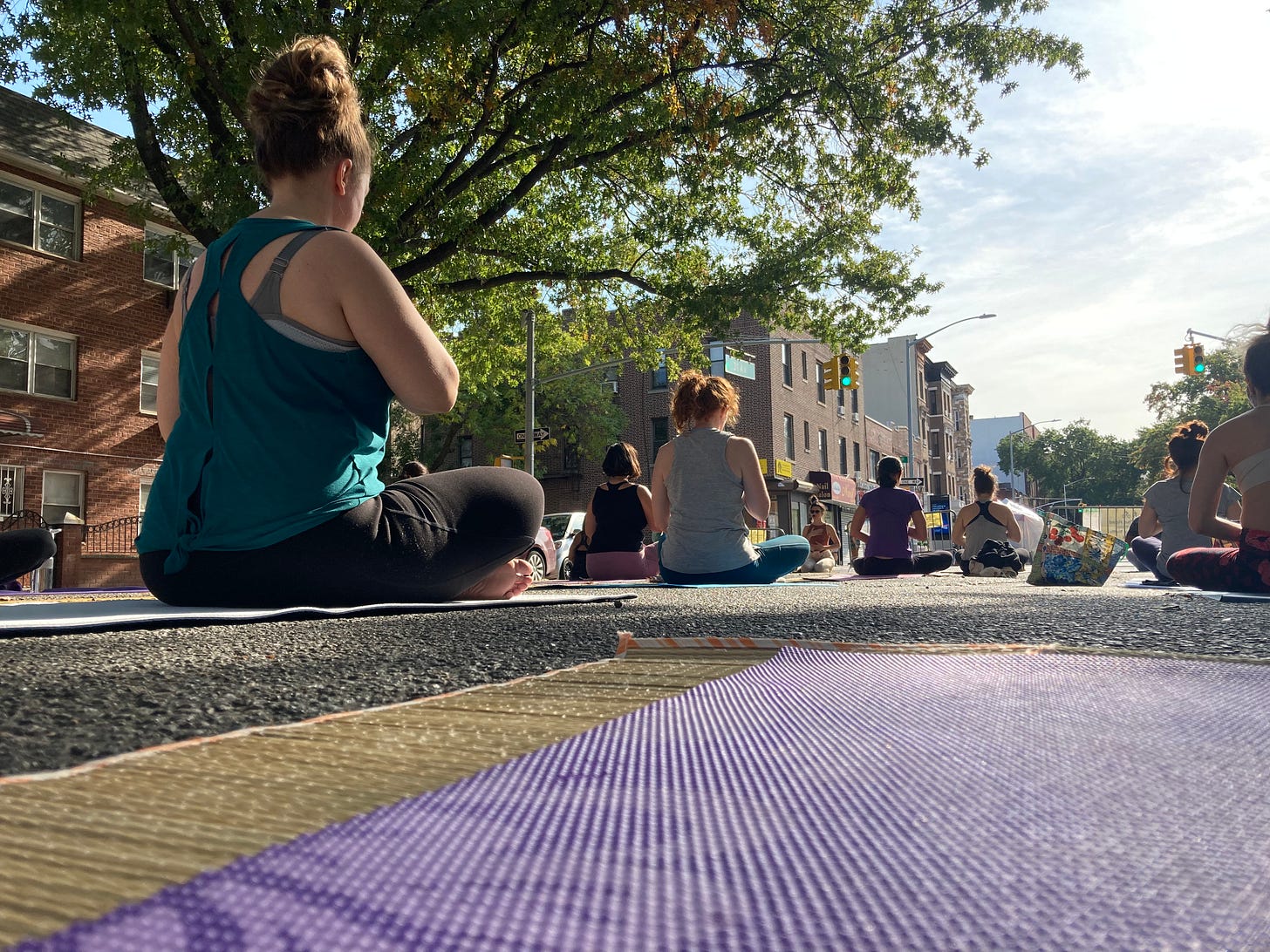 … Of caring (for our bodies)
Since everything old is new again, pandemic/lockdown-wise (sigh), and we are all going to be washing our hands a lot and therefore in need of intensive hand-lotion repair, allow me to share the best hand and foot cream I've ever used: this lavender sage shea butter lotion from Avry Beauty, a professional salon nail care line.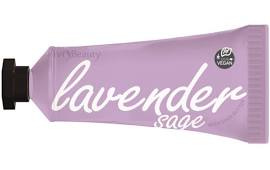 You can actually feel it soaking in and making your skin softer. This was a gift from my friend Grace and because she's a fancy bizh, I assumed it would also be extremely fancy but no! It costs less than three earth dollars, and is available in a bunch of other scents (Rosewater! Honey matcha!) Unfortunately if you are not a professional nail-salon-haver, it's not that easy to buy except on Bezos's Evil Empire, so searching for it sent me down a rabbit hole of professional nail suppliers. Worth it.
…Of reading
Not much, honestly, that isn't wasteful doom-scrolling or comfort re-reads, but thanks to my friend Bari, I had a lovely chill evening leafing through the swanky vegetable cookbook Six Seasons by Joshua McFadden. It has a smidge of that bossy dude-bro chef-talk I don't like (do this my way or you're a philistine), but the recipes and the set-up, heavy on the larder-stocking and advance-prepping, are very much the way I like to cook. I also like to think about food in seasons (he gives summer three parts, hence six in all), an approach that offers equal parts indulgence and denial: eating asparagus, say, only in early spring when it's at its best, then after a few weeks putting it away until next year. Of course, as Alicia Kennedy touched on recently in her newsletter, the dominance of seasonality in food writing is a frankly bizarre denial of the variety of actual weather in most of the world.
The descent of autumn and cooler weather upon New York City makes the media psychically foist upon everyone else a sense of change, whether it's actually happening to them or not. 
Seasons, she suggests, are in the mind (of the powerful), and to keep insisting on their universality is to deny the reality of that power and of a changing climate. The challenge, then, is to think about how we can conjure the pleasure of seasonal change, the shared experience, the evolving menu, the movement of the light, without demanding conformity or denying reality.
…Of writing
Nothing new by me, but I was interviewed by Rachel Thompson at Mashable UK for her piece about the history of the single positivity movement, and of course, Marjorie Hillis. I LOVE the image they created for it, by (the remarkably named) illustrator Bob Al-Greene: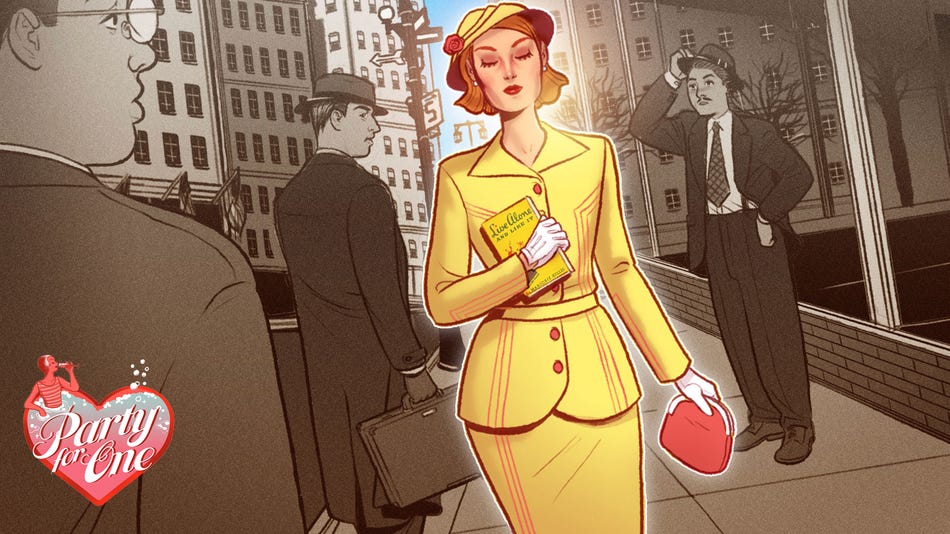 And here I am banging my drum:
"But what I think is still really important about her work is the way she championed pleasure and self-indulgence in a really upfront way, which I think is still radical and subversive for women to do," adds Scutts. "She doesn't believe you can buy your way to happiness, but she certainly argues that surrounding yourself with beautiful objects, dressing well, and taking the time and energy to treat yourself well, even if nobody is watching, are vital and valuable."
Thank you for reading, and to those of you who generously supported my coffee habit last time. You can do the same here, or buy my book! And if you enjoyed this, please do share it.
*He'll go back this week, when the lines are less crazy and the baby less cranky…