The Pleasure Of... Sunday Lunch
Roast potatoes and tragic French romances
Celebrating T's early January birthday calls for a certain culinary and festive creativity. One year we made aligot, the incredible Alsatian mashed/whipped potatoes with cheese, and today I figured I'd do a reasonably traditional Sunday roast. After years of vegetarianism followed by years of New York brunch indoctrination, I've only recently realized how far out of the Sunday-lunch habit I've fallen. So I'm here to declare that brunch has its place, and that place is at the back of the Sarabeth's queue sometime in 2006. Sunday lunch is where it's at. Done right, it's simple, solid, sociable, and sustaining (and much better, honestly, at supporting an afternoon of drinking than the pile of quickly evaporating carbs and sugar you get at brunch.)
The ingredients are straightforward enough: something roasted, ideally beef, or lamb in the spring; an abundance of fluffy, crispy roast potatoes, some other veg, Yorkshire puddings if you have beef, gravy. It's food your grandpa likes, and that his grandpa liked before him. Most classic Sunday lunch foods are dishes that call for a timeworn method, rather than a recipe, but generally the mood and technique are best found in one of Nigel Slater's many books.
It doesn't have to be home-cooked: in Britain, it's an important measure of a pub's quality, and perhaps the ideal scenario is to eat it after a long wintry walk over some kind of *waves hand* countryside—and then pitch up at a pub with a fireplace so you're pleasantly sated by the time the sun sets at four pm. One of the best Sunday lunches I've had recently was at a pub in Bristol a couple of years ago, when I was there to speak at the Women's Literary Festival in March and the town was hit with a freak snowstorm, which deterred absolutely nobody. Ideally you need a lot of people to share it with, and plenty to drink. And, if it's a freakishly warm weekend in mid-January, like it was today, you throw open the windows and hope for the best.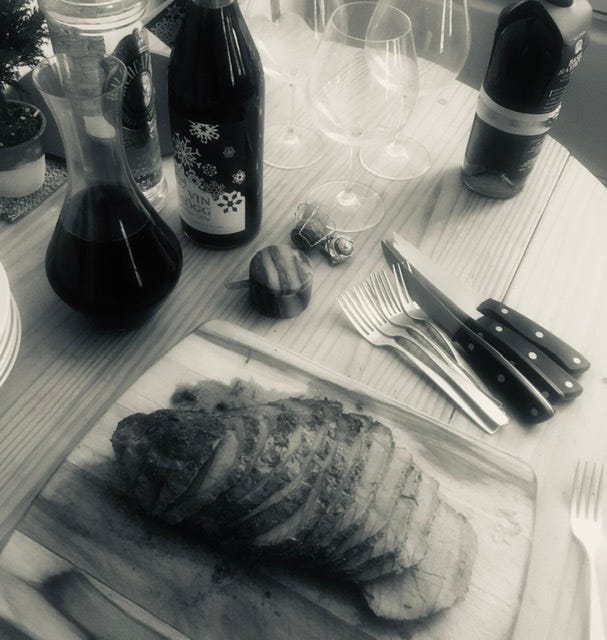 This evening we went to see Portrait of Lady on Fire, the gorgeous Céline Sciamma film that seems to have been around forever, since it was a huge Cannes favorite, and yet absurdly difficult to see. Moving Image included it in their Curator's Choice series, however, and we managed to get in, to an actual sold-out house, which I've never seen there before. It's a very simple story, set in 18th-century France, about a female artist hired to paint the portrait of a noblewoman who is being married off to a man she's never met. Most of the film simply follows the two young women as they fall in love, during this tiny window of emotional and artistic freedom, and it's full of compositions that are meant to be lingered on and remembered like paintings. Save for a glimpse or two, there are no men on screen throughout the film at all, and yet you never forget that everything that dictates the lives of these women, and of the young servant girl in the house with them, is ordered by men. Anyway. If and when you get to see it, see it!