The Pleasure Of... New Starts
On chaos, art, and fantasy.
In Tom Stoppard's play Arcadia, a character explains chaos theory in this way: "When you stir your rice pudding, Septimus, the spoonful of jam spreads itself round making red trails like the picture of a meteor in my astronomical atlas. But if you stir backwards, the jam will not come together again." 
The other day I pulled out a jacket I haven't worn since the spring. It's sunflower yellow with black toggles and I love it dearly, but it gave me chills to pull it on, thinking of all the places we haven't gone and things we haven't done since I last wore it, day in day out, walking back and forth to the sculpture park on the water, where I still walk almost every day. The exhibition has changed (it's now a collection of alternative monuments—this NYT article on it is great) but the view is the same. I'm struck by how far away and how close the spring feels, when X was a newborn and the lockdown was total and eerie but we could say surely, by June we'll be back to normal. Surely, by September. Surely, by Christmas. And here we are. At least we're decked out with a gorgeous new header and logo, thanks to my brilliant friend Lucy Ellis.
We have started to venture out a little from our hermetic bubble—on the bus and subway (once each) and to MoMA, where we introduced X to modern art via one of his namesakes, Félix Fénéon. It took a while to get past the temperature checks at the door (hot day, heavy baby) but once we did, it was both familiar and eerie in its three-quarters-emptiness.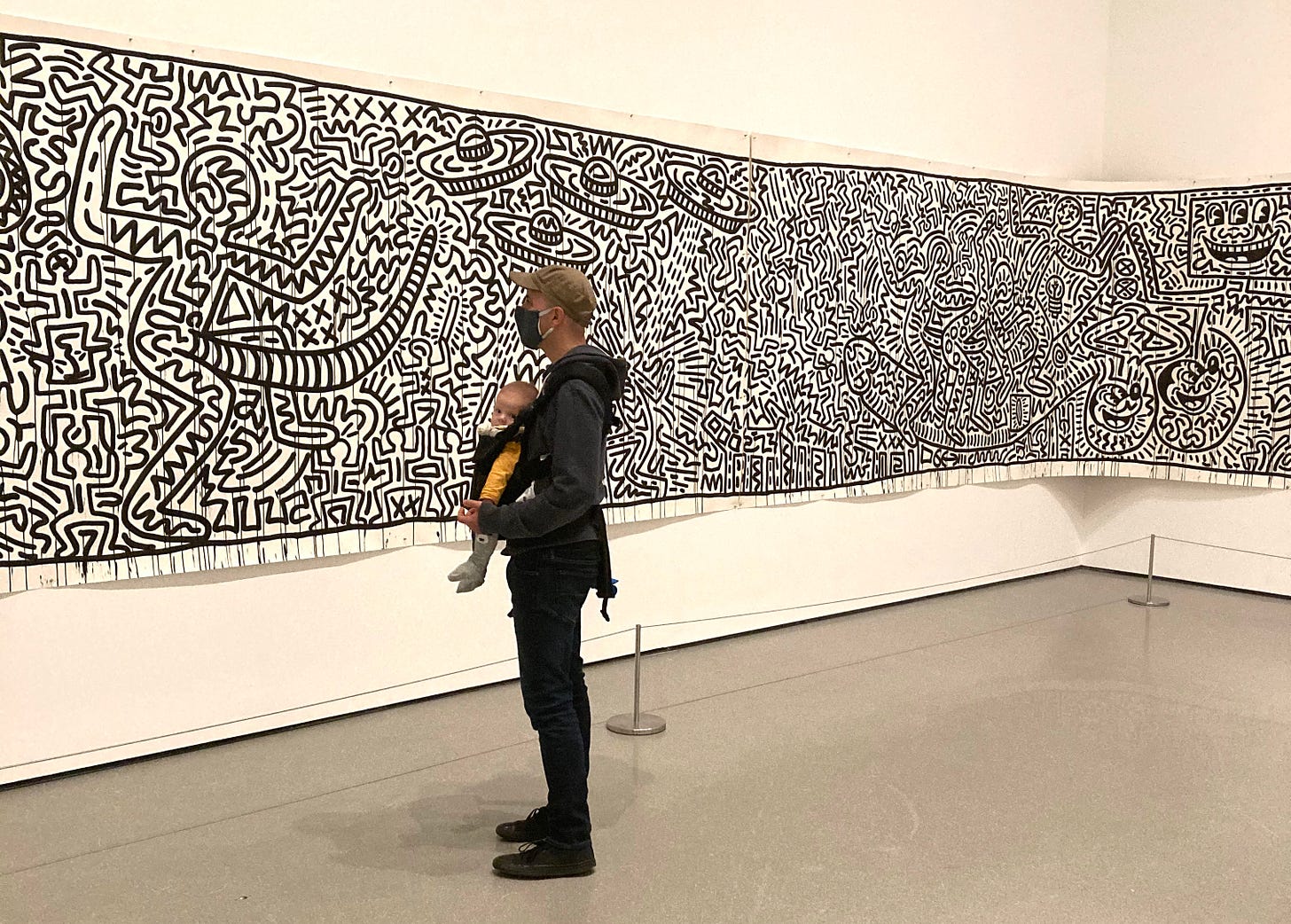 I've taken the ferry a lot, and have a local cafe I've turned into an occasional office, trying not to think too much about what I'll do when it's too cold to sit outside. Invest in fingerless gloves and big scarves, I guess, and channel my inner Parisienne.
Portrait of a mother on deadline.
Amid all the disasters of local and national leadership over the past half year in particular, one bright spot is local activism and people showing up for the community. Our open street, around the corner on 31st Avenue, is just a few blocks closed to cars that now hosts yoga classes, free book fairs, voter registration and census events, and donation drives for the local food pantry. (The yoga is surreal.)
@yoga_agora
holds classes 7 days a week, all by donation. Located at 31st Ave/31st St. 💕
Monday - Friday: 11a and 6p
Saturday & Sunday: 9a
📸:
@astorialive
We've donated books and diapers, and over the summer I talked with a candidate for city council about how to make these changes longer-lasting, how to reimagine the city more equitably moving forward. I'm reading—and hoping to write about—Kate Soper's new bookPost-Growth Living, which connects the changes we have to make to stave off climate disaster with the changes we all want to make in our work lives. Turning on something she calls "alternative hedonism" (very much in the spirit of this letter), it's all about reframing sacrifice as opportunity, and challenging "growth" as the sole metric of economic wellbeing.
I've been torn all summer between intense focus on what's at hand (a screaming baby will do that to you) and hazy imaginings of a different, very vaguely contoured future. That's resulted in a good deal of digital-window-shopping for real estate, near and far, which sounds like a disgraceful cog-in-the-capitalist-machine exercise but which I find helpful, in uncertain times, in visualizing vast nebulous things like who I am and what I want. Most of the time, it makes me grateful for what I have and where I am, but sometimes it opens a window to alternatives. Along similar lines, Window Swap, a crowdsourced glimpse into other people's lives all over the world, remains one of the pandemic's purest pleasures.
This is, of course, a strange time to be talking about pleasure. Even the word is an offkey squawk in the (increasingly damp) deck orchestra of our national Titanic. I won't spend every week rehearsing a disclaimer, but it feels necessary, in starting this letter up again, to reiterate what it's about. My goal is to celebrate specific joys, both fixed and fleeting, but also to question how we describe and judge them, how we can make them a priority in our lives, and why we should. There is so, so much to be angry about right now, and every reason to be terrified. But rage and fear are exhausting, and often paralyzing. I need hope to get me moving—at least a glimpse of better things. This is part of what I'm writing about in my new book, set in a moment of extreme political turmoil and ideological polarization more than a hundred years ago: How activism spreads within friendships and communities, and how friends literally pull each other from the sidelines into the parade. 
Reading
The quote at the top, from Stoppard's play about AE Housman (which I reread last year and is a touchstone for my slowly evolving novel), comes via Mason Currey's newsletter Subtle Maneuvers, which is very good even though that spelling of "manoeuvres" hurts my heart. It's one of several I've been enjoying lately about writing and books, including The Reading, a very charming creative-writing advice column, and Elizabeth Morris's Crib Notes, billed as "succinct book reviews for new and busy mothers" and focused this month on accessible, pleasurable, romantically-infused novels, which are all I want at the moment. Oh, and I just finished Erin Morgenstern's The Starless Sea, an absorbing, lavishly overwritten fantasy that I enjoyed, though I wish its balance tilted more towards people than spectacle. And I will never look at honey in quite the same way again.
Writing
Hardly anything that's not the book, but I'm happy to share this piece on the complicated and underappreciated Alice Dunbar-Nelson, for my "Feminize Your Canon" column at The Paris Review. Here's a taste:
In April 1895, the up-and-coming poet Paul Laurence Dunbar, whom Frederick Douglass had dubbed "the most promising young colored man in America," saw a poem by a young writer, Alice Ruth Moore, accompanied by a photograph in which she appeared stylish and beautiful. He wrote to her immediately at her home on Palmyra Street in New Orleans, expressing his admiration, and they began an intense epistolary courtship that lasted two years. […] The Dunbars embodied the aspirational ideal of the educated, cultured African American, allowed access to the white halls of fame and power as long as they were willing to remain, flattened and fixed, in the roles of representatives of their race.
Finally…
Thank you for reading. I am really happy to be back doing this and hope to get a letter out once a week on Friday afternoons. I would love to hear what's giving you pleasure or getting you through these days—just hit reply to send me a note. If you want to support this letter with your hard-earned cash, thank you! You can buy The Extra Woman, my book about Marjorie Hillis, the 1930s queen of unapologetic pleasure, buy me a virtual coffee, or simply forward this post to someone you think might like it.
And please, please, please, Americans: vote.